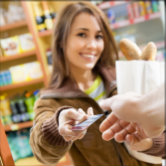 Summary

Additional convenience to all eligible checking accounts

Payments of up to $700 of overdrafts*

Prevent charges from retailers for returned checks

Applicable to ATM transactions as well as purchases

Our normal overdraft charge(s) will apply to each item that would create an overdraft on your account. We will send you a notice each time an overdraft occurs.

More Info

We are not obligated to pay any item presented for payment if your account does not contain sufficient collected funds. Rather than automatically returning, unpaid, any non-sufficient funds items that you may have, if your eligible account (primarily used for personal and commercial/business purposes) has been open for at least thirty (30) days and thereafter you maintain your account in good standing, which includes at least: (A) Continuing to make deposits consistent with your past practices, and depositing at least $400 or more in your account within each thirty (30) day period, (B) You are not in default on any loan obligation to the Bank, (C) You bring your account to a positive balance (not overdrawn) at least once every thirty (30) days, and (D) Your account is not the subject of any legal or administrative order or levy, we will consider, without obligation on our part, approving your reasonable overdrafts. This discretionary service will generally be limited to a $400 overdraft (negative) balance for Free Checking and Ultimate accounts, $700 overdraft (negative) balance for Super NOW, Ultimate Plus, Ultimate Plus Fifty and Small Business Accounts, or a $1,000 overdraft (negative) balance for eligible business/commercial checking accounts (subject to approval).