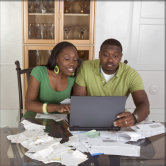 Bill Pay Services
Spend Less Time Paying Bills
Two hours a month. That is the average time people spend paying bills…writing checks, addressing envelopes, finding stamps, mailing. Now pay your bills in minutes with our Express Online Bill Pay service and give yourself more time to do what you want.
Get Control of Your Money
You want time, but you want control too. Control over your money. You'll get more control with our Express Online Bill Pay service:
Transfer funds directly from your account

Know when all your payments will clear (you set the payment dates)

Have all your payment records in one place; know at a glance what you've paid (and when)

Easily download payment information to your personal accounting software.

Fast. Quickly make payments to anyone, and set-up recurring payments too.

Easy. Just enter your payees then click to make a payment. It's that easy.

Secure. Paying your bills online is more secure than mailing paper checks
Are you curious how the new bill pay service works? View the demo.